Popular retail chain Chandarana has been embroiled in a nasty Twitter mess after an email they sent out to some potential clients went awry.
In the email, the up market chain of Supermarkets are seen bidding to engage particular people in the business of offering free vouchers, raffles and other goodies.
But one line in the email has rubbed Kenyans off the wrong way.
The line that has seen Twitter light up in anger says ;
As we are now focusing on WHITE PEOPLE to attract our supermarkets. We have already 13 branches in Nairobi.
The 'White People' part angered Kenyans who called out the retail chain for their apparent racism.
Many Kenyans blasted the Supermarket and attacked them harshly for luring a particular race who do not even dominate Kenyan in the first place.
Chandarana Supermarket are found in most big City malls and other affluent neighborhoods where White People either live, visit or patronize.
But the Supermarket later issued a statement blaming the email author's lack of English proficiency for the blunder, saying in part, "Chandarana Foodplus would like to sincerely apologise for the unfortunate and insensitive narrative written on email by one of our very new and recent hires in the marketing department,"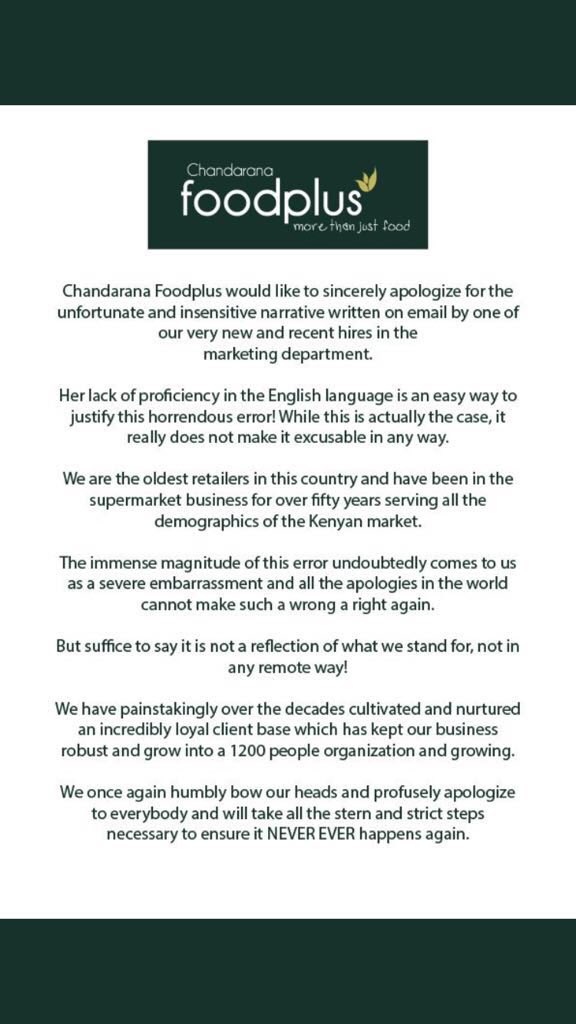 The email was sent by a Mrs Rima Patel, who the retailer said is a recent hire in its marketing department.
Still, Kenyans have not been satisfied with the apology and have continued to harangue the Supermarket and even calling for its total boycott.
.@ChandaranaSuper what kind of BS marketing is this? "You are now focusing on white people to attract your supermarkets" The audacity! #ChandaranasSoRacist pic.twitter.com/ysKHgXaRnK

— Felogene Anumo (@felogene) July 27, 2018
#ChandaranasSoRacist As white guy, Chandarana client but non racist, my way to protest about this is avoid do shop in yours supermarkets till the end of the year… #Naivas win a new client.

— Paulo Soares Borges (@jps_borges) July 29, 2018
So I'm an English speaking country we are giving work permits to fellows who are not proficient in English? You'd rather not have apologized… #ChandaranasSoRacist

— Mr. Redfoot (@mr_redfoot) July 28, 2018
@TuskysOfficial and @naivas_kenya we love you for being kenyan. Please step up and give us world class variety so that we don't have to deal with these racist supermarkets any more#ChandaranasSoRacist

— Lady Mabrey IV (@brendamutura) July 29, 2018
Fuck Chandarana.
Yall whack af anyway 👎 #ChandaranasSoRacist https://t.co/ojRDmiT5AI

— Swavvey🌪 (@bryan_roya) July 28, 2018
It's normal for Chandarana to target white people with their actions, they just voiced their mind on email #ChandaranasSoRacist

— David Wanjagi 🇰🇪 (@OneJagi) July 28, 2018
tagged in: